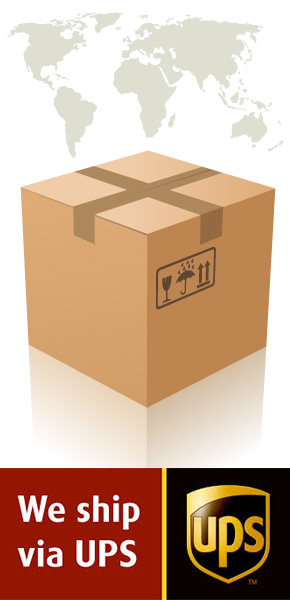 Shipping and returns
Pwork sent throughout Italy and around the world. Packages are generally prepared within 2-3 days after receipt of payment and then are shipped via DHL courier or airmail (depending on the destination and weight of shipped package) with tracking and drop-off without signature. Upon request, we will ensure a link online to check the path of the package.
The package is delivered directly by courier to the address indicated at the time of registration. The elapsed time between the purchase of the item and the delivery of the package to the customer usually does not exceed 10 working days (shipments in Italy) and 15 working days (shipments outside Italy). In August shipments will suffer slowdowns because of the closure of the suppliers for the summer.

Shipping charges include the packaging costs and postage. Packaging costs are fixed, whereas shipping costs change depending on the total weight of the shipment.
We advise you to group items in a single order. We can not group two distinct orders placed separately, the shipping costs will be apply the each order. The package will be sent out under the responsibility of the customer, but it will be guaranteed a particular attention during the taking and transport.

If the package results damaged at the time of delivery, do not accept the package and immediately contact Pwork customer service. The damaged package will return to PWork and it will be sent a new one as soon as the damaged package will be returned. In case the package go missing during shipment contact Pwork customer service, we will take the responsability to solve the problem and to ensure the delivery of the purchased item. If a customer wants to request a refund of the spent amount for a damaged or not-conforming product, the refund will be made only after the package has been returned to Pwork, just to allow us to determine the compliance of the refund request.

If the package and the product results not damaged but the customer wants to have a refund because he doesn't like the product, or he doesn't want It no more or he wants to make a change with another product, the refund will be made only after the package has been returned to Pwork at customer's expense. In case of goods exchange, the customer will be charged the cost of the new shipping.

The courier will make three attempts to deliver the package, leaving each time a notice of non-delivery. We recommend to contact us by at first notice of non-delivery, so that we can arrange with the courier a time and a day for delivery when you're available to receive the package. After three failed attempts, the package will return to Pwork. To ship the package back to the customer, the customer must pay another time the expected cost of shipments.