PWORK Wargames s.r.l.s.
PWORK Wargames s.r.l.s. is a company that produces and sells products dedicated to RPGs, wargames and boardgames, specializing in the manufacturing of the Battleboards, PVC mats for wargames. The studio is located in Italy, homeland of Renaissance and good food, but also collaborates with international partners for shipments in the EU and in the rest of the world, so that It can guarantee competitive prices and faster deliveries. All our products are made with the highest quality materials and exceptional attention to details and practicality, to provide the best gaming experience that you can enjoy.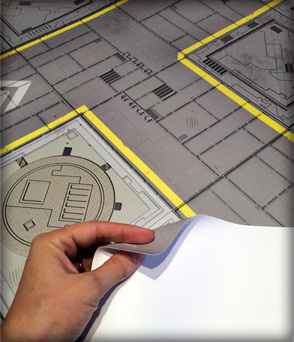 PWork Philosophy
Pwork comes from a simple idea: providing high-quality stuff for wargames, boardgames and role-playing games in a simple, rapid and economical way, taking care of the customer's need of space. The Pwork staff is the first to use and test the products: as players we know well the limitations of many products on sale and the difficulties that other players like us face every day. We try to find practical solutions, that are high-impact and high yield for these problems.
PWork offers the chance to purchase online PDF files that will make your games more engaging and complete: with a simple color printer you can print the PDF file on US LETTER or A4 size (21x29,7cm), stick It on cardboard or cardstock, cut it out, assemble it according to the included instructions and then use it, with a limited cost and spending of time.
Alternatively, if you prefer an ready-to-use mat for your favorite wargame you can choose from a wide range of Battleboards or Wargame Mats, printed in high resolution, made of high quality PVC and directly shipped to your home. Rollable, hard-wearing and waterproof, for Fantasy or Sci-Fi. We hope you will be excited!
PWork Team
The PWork's creator and founder is Paolo Bertoncini, art director, creative and game designer. Passionate about role-playing games, wargames and boardgames, is the creative soul of Pwork, and the main creator of our products. The right-hand man, the man who works in the shadows, the specialist in customer management and back office is Alessandro Picollo, he is the gear that allows the machine to go without a hitch. Also a lot of professionals have joined our team to make Pwork even better.