 
Dice Tray - Danger
Dice tray printed on neoprene material, size 20x20cm.
A practical and easy to transport stuff for all the players of wargames, boargames and roleplaying games.
Let the dices roll!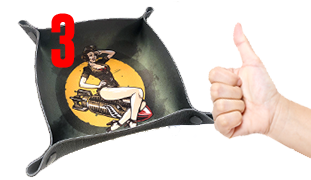 Data sheet
NEOPRENE / RUBBER

The premium gaming mat! Made from synthetic cloth with a 2mm thick rubber foam backing. It lays perfectly and istantly. Non slipper backing surface. Gaming surface resistant to scratch and durable.
Super cool!
Light, cheap but super effective! Rolling the dice has never been such a fan. Good idea for gifts to the RPG party!