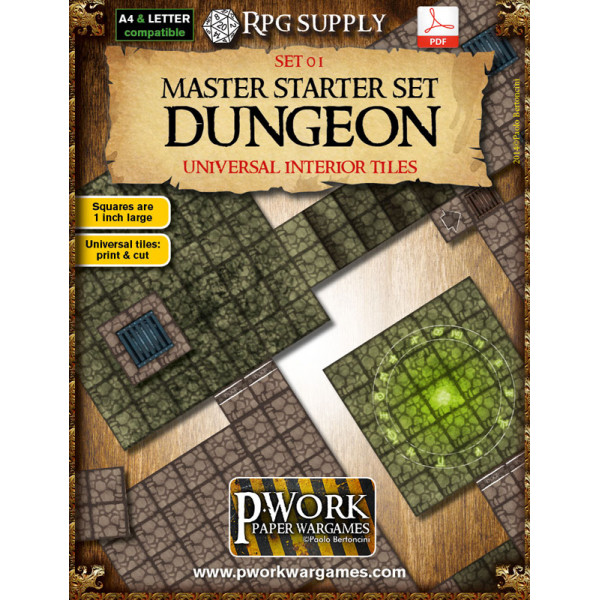  
Master Starter Set: Dungeon - RPG Terrain Tiles
Paper-printable set of tiles maps, ideal for RPGs and boardgames with fantasy settings.
Square size 1" (2,5cm), the set contains 139 modular tiles and 89 tokens to recreate corridors, rooms and grids of a dungeon.
All Fantasy Tiles sets are compatible and can be used in combination with each other.


This set offers the possibility of obtaining infinite combinations of fantasy tabletop tiles maps, compatible with all major wargames, boardgames a role-playing games that use 25mm or 28mm miniatures, ensuring hours of fun among halls and tunnels of an underground maze.

TECHNICAL FEATURES:

- Format: PDF Color File
- Printing Format: A4 and US LETTER
- Pages number: 40
- Tiles number: 139 different 2D tiles + 89 tokens
- File weight: 15 MB
- Squares size: 1" (2,5cm)


Data sheet
PDF printable map

The product is a high resolution PDF file (includes several pages) ideal to be printed on LETTER or A4 paper format. Personal use only.
There are no images to display
Related Products
16 other products in the same category: