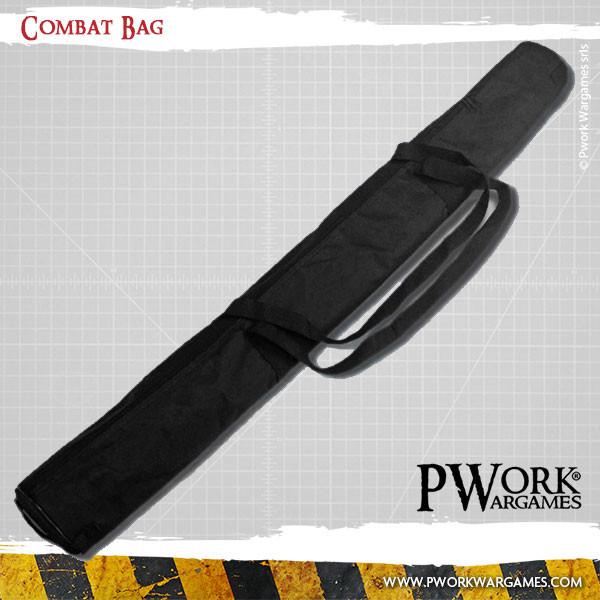  
Combat Bag
Gaming mat storage and carrying bag.
The perfet accessory to transport and store your wargames mats.
The Combat Bag is available in two sizes:
- Large, 4' length
- Small, 3' length
TECHNICAL FEATURES:

– Size: 9×126cm
– Durable fabric, resistant to tear and abrasion
– Two-way zipper with two sliders
– One Combat Bag can hold 1-2 neoprene / mousepad mats or 4-5 PVC mats (depending on mat size)
Carina
ottima per riporre i tappeti da gioco senza fargli prendere polvere. Personalmente il prodotto lo ho apprezzato , potrebbe essere migliorato aggiungendo una tasca trasparente in cui scrivere cose cè all\'interno , so di essere pignolo ma avendo più tappetini tra giochi fantasy e futuristici sarebbe utile.
Ottimo rapporto qualità/prezzo
Comoda custodia per i battelmat, fosse un pelo più rigida sarebbe ancora meglio.
Great addition
Great addition deffinaty get one with any mat.
really good
Really handy!
Meh
This bag is ok. It says when you're transporting your play mat. Mine came with one of the loops on top already ripped. It's does it's job of protecting the mats though. Just ok over all
Bag
Perferct
Great for storage and transport. Protects my amazing mat very well!!
06/11/2019
Gribblywibblin
Excellent quality product very happy with my purchase
Alright
The bag is good for protecting gaming mats, but does not have enough stiffness, so that the mat can bend during transportation
Combat Bag
Articolo davvero utile e comodo per il trasporto dei tappeti.
Almost Necessary
This bag is an excellent solution for my 72\"x48\" playmat. It is designed to be used on the shoulder and kept vertical: used as a \"bag\", the weight of the mat will bend everything in the middle. The real only \"issue\" however are the zips: when the bag is completely open they can easily misalign/separate... close with care.
Ottima e molto comoda per il trasporto dei teli e ad un prezzo convenientissimo.
étui tapis jeu
Super produit, très pratique!\r\nje recommande cet achat pour protéger tapis de jeu
Review
Perfect for its pourpose and to save space in a small house
Sacco trasporto classico, nulla da dire. L unica cosa che quando lo si trasporta con un tappeto dentro tende a piegarsi a metà e per il trasporto diventa scomodo. Magari migliorare le cinghie? Difficile da dire
bello e comodo ma..
studiato apposta per il tappeto da 6 x 4 ma.. due appunti :\r\nPrendendolo per la tracolla nel centro flette creando una grossa piega, non vorrei a lungo andare rovinasse il tappeto contenuto\r\n2 la cerniera , pur avendone viste di molto peggio, non so per quanto potrà andare avanti
Muy práctica
Un elemento indispensable para proteger nuestros tapetes y poder llevarlos a cualquier sitio.
Pratique
Acheté pour ranger mes tapis mais c\'est pas simple de ranger le tapis dedans tout seul \r\nj\'ai surement mal compris, mais impossible de ranger plus d\'un tapis dedans.\r\nUne fois rangé dedans facile a stocker et à déplacer ;)
12/02/2018
Simon Neville UK
Assai utile anche per conservare in ottimo stato i tappeti per wargames, ma manca della necessaria rigidità per un miglior trasporto e stoccaggio.
Good, cheap investment in bag transport.
12/08/2018
Kaptin Nazgrim \'ulksmoke
I like to invest in terrain and mats more than a lot of the folks that I play with, so having a way to transport them painlessly is worth it's weight in gold. I've only used a single mat in this bag, but it's held up to plenty of abuse so far and is still chugging along. The strap is long enough to get it across my chest, so it doesn't choke me or dig into my shoulder when toting it around. For storage purposes, it's totally big enough to fit a few mats into, but isn't unwieldy with just one.
Related Products
16 other products in the same category: